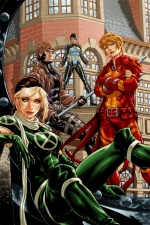 I'd better jump into my recent Amazon box and read Schism, because I obviously missed a lot of recent X-happenings. I'm glad I just read Age of X, or the lines about Frenzy's feelings for Cyclops would have made zero sense as well! That said, Christos Gage always makes his work new reader friendly, and this issue is as well.
It seems this is the X-version of Avengers Academy, which is pretty crazy if you think about it. One guy is writing the "school" books for the two main Marvel franchises. One interesting difference seems to be that while Avengers Academy focuses on the students, it seems the spotlight in Legacy will be more on the faculty. Are the teachers we see here going to be the focus going forward? I figure Legacy has been Rogue's book for awhile, but I'm curious to see if Husk, Cannonball, Rachel Grey, and especially Frenzy can maintain this level of exposure. I love seeing these characters get a chance to shine, especially Husk. She's got a great power and I'm excited to see new abilities popping up every month (especially when Rogue can just copy that ability!)
The demons who show up have some nice ties to old X-Men comics (that I haven't read) but really, they are the equivalent of ninjas, robots, or zombies, they show up in this point one issue to let the stars of the book show off their powers. Cannonball blasting through a demon, then immediately lecturing a class on the X-Men's No Kill Policy was fantastic, because naturally, demons don't count.
That is a might interesting development on the last page. I've always liked Gambit and Rogue's on-and-off romance, but I am enjoying the heck out of the new Frenzy too. I remember Joanna Cargill as that troublemaker from early X-Factor, I never would have guessed she'd be turning into a real X-Man!
David Baldeon's artwork is always fun and dynamic. His work reminds me of She-Hulks artist Ryan Stegman. I'm not totally sold on the redesign for Rachel Grey, although I really love her phoenix-style cloak that shoots out when she flies. And c'mon, we're not keeping that bike-helmet looking head on Iceman, are we?
Good