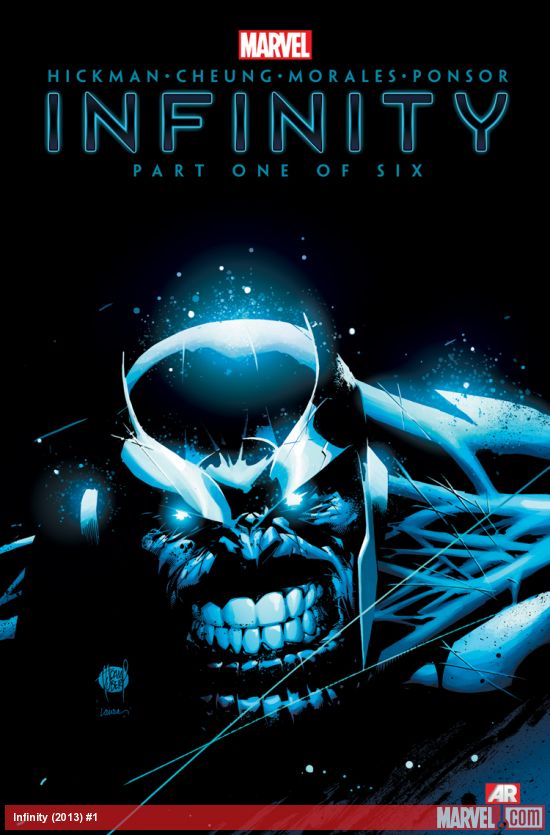 I'm not going to make any friends with this opinion, but I just can't get in to Jonathan Hickman's writing. I gave up on Avengers after Thor and Hyperion spent an issue talking on a hill. But I decided to give this epic, 45-part story another shot and pick up Infinity #1.
I shouldn't have bothered. Most of the issue reprinted material from the Free Comic Book Day issue this year. While necessary, it was a repeat, so I couldn't really make a new opinion based on it. It sort of added to the "waiting" feeling I already had with Hickman's builders storyline.
I've always like the Inhumans' costumes and designs, but as characters, I can't get into them that much. I actually find the Eternals a bit more interesting. Adding in a ton MORE Inhumans doesn't address my problem, and giving Black Bolt a bunch of weird wives just makes him into Bill Paxton. I think Black Bolt appears on more pages than any other Marvel hero, making this one really weird Avengers story. I mean, they really don't do much in this one at all.
Again, if I hadn't already read 12 issues of Avengers to start this story, I'd be a lot more forgiving of an issue where the Avengers barely appear. I never thought I'd say this, but I think I'd like Cannonball and Sunspot back on the X-Men; at least they might get a few more lines!
The weird hunter killer villain is neat, and Jimmy Cheung's design is intimidating, but man, I bought this comic for one reason: Thanos. He appears on one page, and doesn't do a lot on it. It's a great moment, full dread, but I want more, especially with a comic this thick! I mean, if Infinity Gauntlet had this pacing, then the heroes wouldn't disappear until issue 4!
This type of serious, dramatic crossover is clearly not my cup of tea. More pages doesn't make the threat more horrifying, it just makes me more anxious to see the story develop. I need more plot for $3.99 (or more!)
Infinity is more Crusade than Gauntlet. It is proof that long, drawn out stories are EVIL.