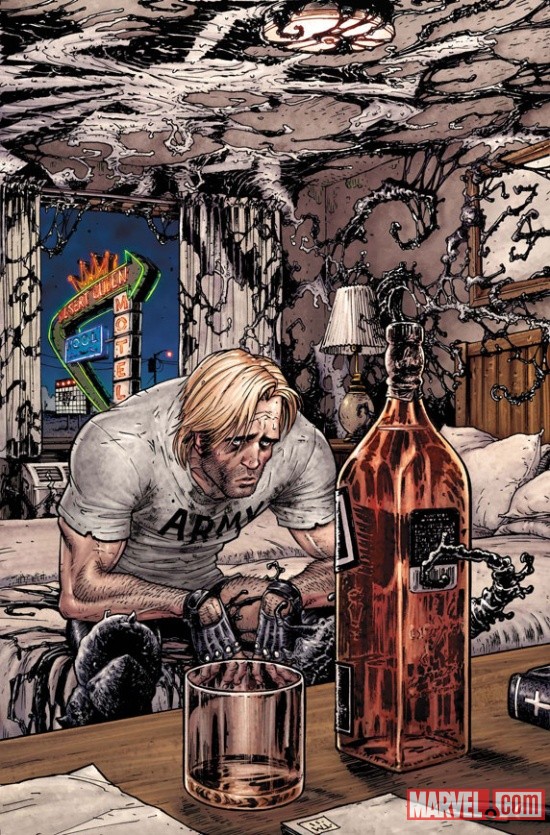 I had a chance to read the recent Spider-Island issues of Venom, and I found myself impressed enough with Rick Remender's military-hero that I decided to pick up this issue. It seems it's not exactly the start of a new arc, but I think it is close enough.
A hero is measured by his villains, and since this issue is basically a showcase for the new Jack-O-Lantern, I can safely state that Jack is one of the most despicable new characters I've seen in quite some time. I mean, the guy's secret origin is filled with some deplorable stuff, and his "calling card" of turning his victims into actual jack-o-lanterns? It fits better into an issue of Crossed than a mainstream Marvel book.
Flash Thompson himself seems to be in the midst of a slump. His Dad just died, and he's knuckling under the current Crime Master and Jack as they send him on errands all over the country. Oh, and he's stolen the Venom symbiote and he's worried that he's addicted to using it. So yeah, not the best day for Spider-Man's #1 fan.
I'm pretty excited seeing the religious Eddie Brock and the always-entertaining Red Hulk show up. I think there is a crossover coming up with these guys, and the shared backgrounds (symbiote for one, military for the other) seems to make this a strong set-up. Count me in.
Lan Medina's art has never wowed me, but he seems to be channeling Tony Moore in these pages (the series' original artist) and boy, it's working. Jack looks monstrous, Flash's face is expressive and clear, and I love the heavily-equipped Venom. Why wasn't I reading this comic before now?
Good