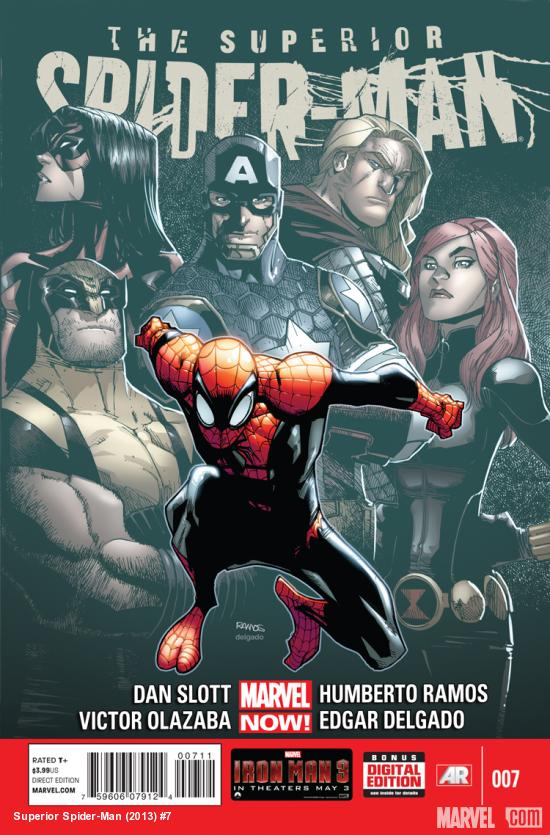 Sure, the Avengers made the cover. But this would have been my #1 read of the week had I known that CARDIAC was appearing!!!! Cardiac! The crusading doctor who looks out for the little man while blasting his foes with his beta-staff. One of my favorite relics of the 1990's is back!
Dan Slott pulls off a great, natural intersection in this one. The book opens at Cardiac's clinic, where the crusading doctor is looking for some specific equipment to save a young patient. The reader instantly sympathizes and roots for Cardiac, there is no doubting the guy's motivations after those first few pages. Contrast that with the always annoying Superior Otto-Spidey. Otto gets summoned to the scene where he enlists the local cops to aid him and then barges in. Peter Parker's consciousness continues to sit in the backseat, mentally speaking. He spends the issue yelling at Otto that Cardiac is really just a good guy.
Thanks to the groundwork laid in the last few issues, there is a real concern at what Otto might do to Cardiac after seeing the Superior Spider-Man put Boomerang, Vulture, Jester, and Screwball in the hospital, and Massacre in the morgue. Will Otto go too far and take out a good-hearted vigilante? I won't say, but remember that Cardiac might have something to say too.
The rest of the issue has the Avengers finally picking up on Otto's odd behavior while he's been Spider-Man. When the team wants to do a full examination on Spidey, Otto's not having it. I love that the Avengers aren't letting him leave, too. I expected Spidey to get kicked off, but not an actual battle!
I'm not the world's biggest Humberto Ramos fan. But man, does he hit a homerun with Cardiac. The guy looks awesome; bulky, powerful, and heroic all at once. I always liked his design, but Ramos updates it and amps up the features while still retaining the classic feel. It's a great piece of super-hero design. What other 90's classics can he take on? Anyone remember Mongoose?
Good