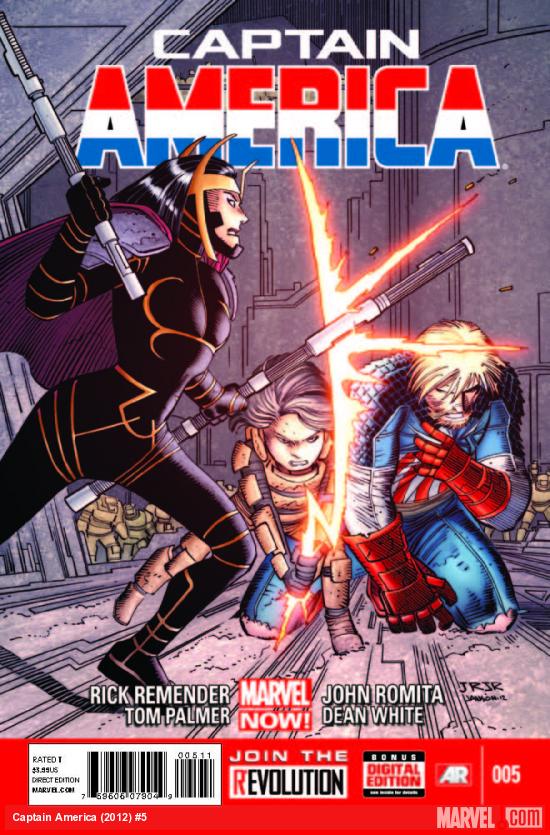 I'm still not convinced this was the right way to kick off a new Captain America series. I'm seeing the falling sales numbers and the negative reviews online, and it just bums me out. I love that Rick Remender has embraced the madness of Jack Kirby's run on Captain America. He's introduced some great new characters in Ian and Jet Black, and Cap's fighting spirit is on display every issue. Heck, next month's cover has me excited to see Cap fighting back!
But I'm not sure it is a good idea to spend 5 issues in an insane alternate reality with only two or maybe three recognizably human characters. The Phlox of whatever they are called are just too inhuman to be relatable, and that hurts the drama of the current storyline. It is hard to believe that this story will really "count" in any meaningful way. At most, we'll get a redesigned Arnim Zola and Jet Black back in the Marvel U. I suppose Ian could make it out somehow, but man, that would be one big parallel with Batman and Damian, wouldn't it?
I like that Jet Black is showing some signs of a conscience. With no actual Big Barda appearing in comics, I suppose I'll take a copy in the Marvel Universe!
John Romita Jr.'s art is always fun; take a look at that panel where Zola's gross copy slops out of Cap's chest cavity! But this arc lets him indulge in his most insane monster-drawing, and that means that once again, things look a bit too far out. You have to be a real fan of his style to pore over 20 pages of insane monsters.
Fair