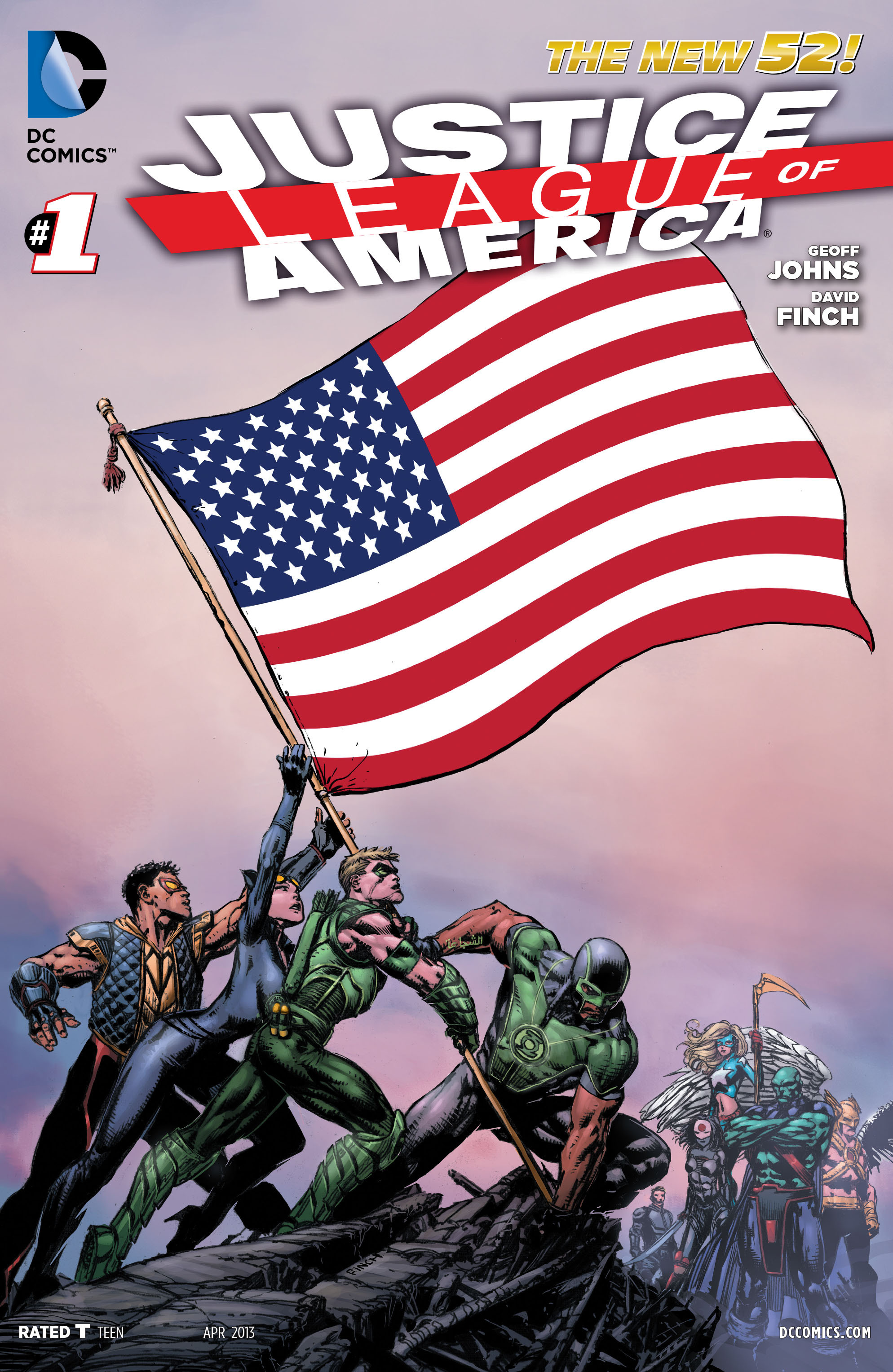 I think I'm finally giving up on my new 52 angst.
I'm too tired to fight it when Geoff Johns' JLA hits me over the head with "newness" in every issue. We have to pretend the team doesn't know Chronos, the Shaggy Man, or Dr. Light. Hawkman doesn't know Green Arrow. No one knows Star Girl. Amanda Waller put together the JLA (with Steve Trevor's help). Yep, this isn't your Dad's Justice League of America. Unfortunately, I'm old enough to be your Dad, which means this isn't my Justice League.
But as I said, I'm getting too tired to fight it. (Note that I'm reading these from the library, my days of buying DC books are long gone.) So now, I'm just happy to see Hawkman acting like a tough a-hole. I'm happy to see Catwoman slinking around the team, but fitting in quite nicely. I'm happy to see Martian Manhunter treated as an uber-powerful mainstay of his own team. And once those introductions are done, this book is perfectly fine.
The trade focuses on the debut of the Society of Super-Villains. From the striking opening sequence where an undercover JLA-er barely escapes to the big showdown with the Shaggy Man, this is classic superhero action. I especially enjoyed Catwoman's execution about halfway through the trade. I never believed it, but it was neat seeing how Johns' got Selina out of trouble.
Like many of DC's current trades, I found myself very tripped up by crossovers. Whole chapters of this trade are distracted by crossovers with other titles. The Justice League Trinity War gets some development and exposure, but absolutely no wrap up. (I guess I need to read a different trade for that?) This isn't as disjointed as the Green Lantern trades, but it isn't easy to follow either.
The actual team make-up is surprisingly effective. I found myself really rooting for Catwoman to get her due respect from her peers. I also really liked the everyman Vibe as he tried to prove that he was actually useful. I don't know the old Vibe character at all, so seeing this new 52 version wasn't jarring for me at all. And of course, I absolutely love that Johns has always written Martian Manhunter the right way. J'onn is powerful, protective, and intimidating all at the same time. Jeff Lemire does a nice job in the backups maintaining that portrayal.
I'm not a David Finch fan, so his chapters didn't knock my socks off. He draws pretty ladies and handsome fellas, but most of the characters have pinched, childlike faces that don't quite fit the character. That said, the art told the story clearly and set out the action nicely. I preferred Doug Mahnke's chapters, those felt and looked a lot more like what I like from my DC comics.
Reading this for free, it is perfectly FAIR. I still miss my real DCU, and I guess I always will. However, I'll continue reading this one from the library due to the strong characterization Johns always brings to his books.