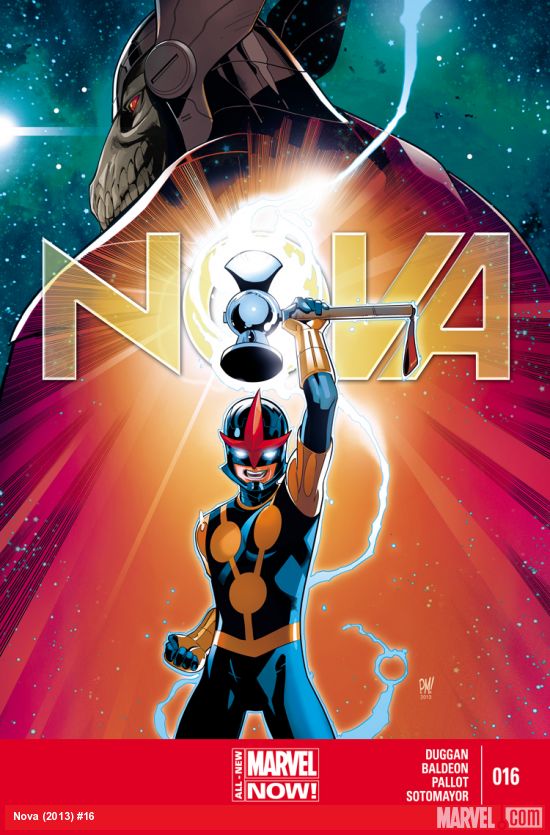 Much to my surprise, I'm still enjoying the most recent take on Nova. Gerry Duggan isn't reinventing the wheel here, but through a clever use of guest stars, decent villains, and snappy dialogue, the current Nova series is moving along nicely.
This trade focuses on Sam Alexander's first extended space-mission as he travels the galaxy searching for other Novas. The problem is every one he finds is dead. Duggan has a nice, if obvious twist near the start of the arc, but it is a good way to bring in guest star Beta Ray Bill. Bill isn't exactly an A-level star these days, but his presence still lends a sense of legitimacy to Sam in the suit.
The two of them are hunting down a cosmic slaver/weapons thief, so naturally the chase leads the two protagonists to Knowhere. I was pleased to see one of my favorite DnA-era Guardians show up. This character's acceptance of Sam again adds legitimacy and permanence to Sam's role as Nova. I won't lie, I'm still desperate for Richard Rider to come back, but Sam is at the least tolerable.
One of the high points of the series is Duggan's take on Sam's youthful voice. Sam is irreverent, frequently overwhelmed, and wholly likable. This comic is one of my daughters' favorites; I've said in the past how they call Sam "their Nova." Well filling his word bubbles with amusing and self-depreciating comments only adds to their affection.
My favorite villains of the storyline are the dark space knights. Under the pencils of Paco Medina and David Baldeon, they truly look like evil ROMs. I'm not the biggest fan of Medina's pencils, but he does put a great sense of energy in every page. I've always enjoyed Baldeon's work, especially on teenaged characters. His Sam looks good, of course; I'm more impressed at how powerful and cool Beta Ray Bill looks.
This isn't my favorite comic, but it is GOOD for what it is; a new-reader accessible character enjoying all-ages adventures in the cosmic Marvel U. (Now just bring back Richard Rider!)