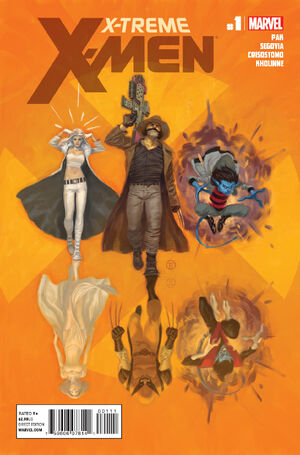 I liked it the first few times. I loved Exiles. I loved Jeff Parker's Exiles relaunch. (Didn't care for Claremont's run, but what the hey?) So I'm afraid the concept of the alternate reality X-Men hopping through time isn't a new one. It takes a crackerjack lineup and a strong creative team to keep my interest in the concept now. This doesn't have the lineup, it has a decent writer, but the art is not impressive.
Greg Pak won me over years ago with his work on Hulk and Hercules. I haven't liked his later work quite as much, and this is another near miss. Clearly he's in love with Dazzler, who gets an amazing power upgrade for this series. Seriously, I think she could take on Magneto if everyone wrote her with this mastery of her light powers. She blasts desert rocks into magma at one point!
Emmaline Frost gets a few good lines, but she doesn't have a huge impact on the book. Xaver's floating head is a walking plot device. I can appreciate Howlett as a very different Wolverine, but I sort of feel like Pak is telegraphing his big secret. (I do like the use of Adamantine to lace his bones, though, that is a nice twist!) Kurt Waggoner is a nice kid, but every time he's on panel I can't help but think how much I prefer the real Nightcrawler. And I'm not sure, but is Dazzler's crush Johnny Ito a stand-in for Pak? I hope so. If you are going to write comics, why not write in a Mary Sue?
So the point of the book is that the X-Men must travel through alternate realities killing evil versions of Charles Xavier. We start off in a weird, Olympus-type world where Thor, Storm, and the other surviving X-Men are gods to the surviving humans. It's an odd setup. One where I'm not entirely certain I even understand the swerve. What exactly did that world's Xavier gain from this situation?
The second story is a bit more straight forward. Xavier is a brute-force mind-controller in charge of an old West town populated by X-Men. Its fun seeing cowboy Cyclops and rail worker Colossus, but I can't help but think that the objective in this arc was more to put Dazzler in more period costumes.
As a star-making vehicle for Dazzler, this almost works. I think that might have been a better tack to take, actually. The three or four member team of X-Treme X-Men never really seem to agree on a goal or even on the mission they are supposedly undertaking.
The art is OK. Stephen Segovia does a pretty decent Leinil Francis Yu impression, but the finishing touches on the faces and backgrounds is not there. Later, Paco Diaz takes over. I'd hazard a guess that Dazzler is his favorite character too. She looks great on every page, while the other characters sometimes don't seem to have gotten quite as much attention.
This is a book for Dazzler fans. If you feel she's never gotten her due, and want to see her lead a team and use her powers in new and innovative ways, you'll dig this book. As someone who has no strong feelings about Dazzler at all, this book is EVIL.