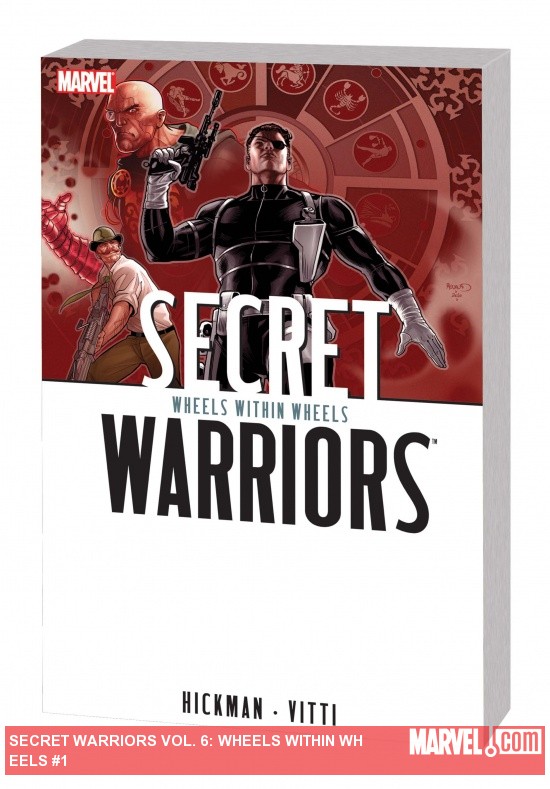 I'll say this for Jonathan Hickman; he's consistent. I dropped his Avengers titles a few months ago because I found them overly clinical and unnecessarily complicated. Going back and reading his Secret Warriors series on Marvel Comics Unlimited shows that it was these very same skills that got him the job writing the Avengers. He's always written like this, it just seems that is what Marvel wants on their flagship title.
Abandoning the core cast of "Caterpillars" from the earlier parts of this series, the last few issues of this comic put the focus on an entirely separate cast. Hickman ties the ongoing SHIELD storyline against his Shield group from ancient times, mashing them up in a super group after World War II. I have to confess, I'm a huge comic nerd and I think I only got about half of the members of the Zodiac that Da Vinci recruits. Part of the problem is that I still can't keep any of the Leviathan members straight, and they are pretty important to this flashback.
Now you've got an even bigger problem. Huge, continuity altering LMDs that have been scattered throughout SHIELD's history. People long thought dead suddenly show up alive. With no real clues or ability to predict. Out of sequence flashbacks deliberately obfuscate the narrative at multiple points. Folks act out of character in order to add more drama.
Basically, this thing is a mess. At the end of the day, Nick Fury is going off into the sunset to rescue his now-evil ex-girlfriend, the Contessa De Fontaine. (She was a double, no, triple agent.) He leaves Daisy (Quake) Johnson in charge, which at least ties back to the Caterpillar characters that launched the book, but her time on top comes to an end pretty quickly in Secret Avengers. (How could a 19 year old kid ever, EVER be put in charge of a global organization like SHIELD?)
Alessandro Vitti's art is fine, especially when he gets to draw crazy armored folks and science villains. I can't tell his 60's era Germans, Americans, or Russians apart unless they're bald, but that's why comics have costumes.
So in the end, this was a story with way too many players, narrative double-blinds and loops that led to nowhere or showed up out of order, and the writer was able to either mangle characters (Contessa) or kill them and take them out of the Marvel U unnecessarily (Howling Commandos.)
How the heck did this EVIL book get made?